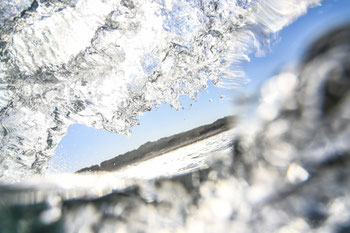 When I got into surf photography, there was very little information about adecuate camera water housings on the market. My first water camera was a Nikonos. A very expensive Nikon model, that was made for diving. It didn´t last very long and the reparations were quite expensive. Years later I bought myself a SPL housing from California.  It cost me 2000 Euro and was set up for a Nikon D300.  They are very good quality, but maybe a bit expensive to get things started. For half of the Price  I bought also a SPL waterhousing for a Nikon D500, which I use most of the time. I would like to give you some advices, If you want to start shooting in the water: If you just want to give it a try, start with a GoPro. They are handy, easy to use, and relatively cheap. Only buy a housing for a DSLR, if you really want to get serious about it. If you buy a housing, check, that it is easy to adapt for different camera types. It doesnt make sense to buy a expensive housing for an old DSLR, when maybe one year later you change to a smaller mirrorless  camera and have to change everything. Once on the beach and ready to shoot, have the following things in mind:
Check that Batteries are charged

Check all settings of the camera, before closing the housing

I normally put a higher ISO to guarantee a quick shutter speed.

I put quite a big aperture (e. g. f 4) to guarantee higher shutter speed (1/800 and above)

Bring the tool for the housing screws!

Put the camera in the housing at the same temperature as outside, if not, fogging while be a problem.

Check, that all O-rings are greased and have contact with the back plate.

Dip the housing in the water to check if it leaks just at the beginning at the session, before swimming in the line up.

Spit the lense every now and then, that will avoid having water drops on your lens.

Wear a surf helmet

You will get a lot more photos when you shoot well defined point break waves, as it is way more easier to connect with the surfers.

Wear swim fins and know the currents. Do not be in the way of the surfers. Get closer to them once you know the game.

Always remeber: A collison with a surfboard can be deadly.

Comunicate with the surfers. Let them know, that you are there.

Start shooting with friends who can surf.

If you go over the falls, don´t lose the housing and make sure, it is not going to hit you. Some of them have pretty sharp edges.

While swimming over the reef or getting washed, make sure, that the housing faces upwards or protected to not scratch the lens.

Have fun!
Matthias Soeder